Wednesday, December 11
9:45 a.m. – 10:45 a.m.
Julia Louis-Dreyfus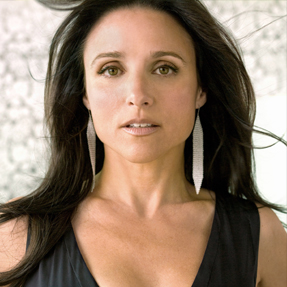 Julia Louis-Dreyfus' comedic versatility and tremendous skill has made her one of Hollywood's most sought-after actors and producers, expertly shaping a career full of memorable roles. Louis-Dreyfus starred in and served as executive producer for HBO's hit series Veep, which wrapped after seven critically-acclaimed seasons. She earned worldwide acclaim for her portrayal of Elaine Benes in the hit NBC series Seinfeld, and as Christine Campbell in the CBS hit comedy The New Adventures of Old Christine.
Between all shows combined, Louis-Dreyfus has received eleven Emmys with twenty-six nominations. In 2017, she broke records for the most Emmys won by a single performer, as well as the most consecutive wins for a single role through her performance in Veep. This career highlight marked her eighth total acting win, tying Cloris Leachman's record. Most recently, The Kennedy Center awarded Louis-Dreyfus with the Mark Twain Prize for American Humor in November 2018. She has received a Golden Globe, a Television Critics Association award, a Peabody Award and the Charlie Chaplin Britannia Award for Excellence in Comedy. Furthermore, Louis-Dreyfus has won nine Screen Actors Guild awards, making her the most decorated actor in SAG history. In 2010, Louis-Dreyfus received her star on the Hollywood Walk of Fame and was welcomed into the Television Academy Hall of Fame in 2014. Additionally, in 2016, she was named one of the 100 most influential people in the world on Time Magazine's annual Time 100 list.
Most recently, Louis-Dreyfus wrapped production on Fox Searchlight's Downhill, where she stars alongside Will Ferrell. The comedy drama, for which she also served as a producer, is directed by Jim Rash and Nat Faxon, and is a remake of the 2014 Swedish film Force Majeure. She will next be seen in Disney's Onward opposite Chris Pratt, Tom Holland and Octavia Spencer which is set to release March 6, 2020.
Louis-Dreyfus received critical acclaim in 2013 for her leading role in Fox Searchlight's Enough Said, written and directed by Nicole Holofcener and also starring the late James Gandolfini, Catherine Keener and Toni Collette. She earned a Golden Globe nomination for her powerful performance, making her one of the few actors to be nominated for a film and television role in the same year. Additional film credits include Disney's Planes, Pixar's animated hit A Bug's Life, Woody Allen's award-winning Hannah and Her Sisters, Allen's Deconstructing Harry, Rob Reiner's North, as well as Ivan Reitman's Fathers' Day and Jack the Bear.
Her television credits include multiple appearances on Curb Your Enthusiasm, as well as recurring roles on The Simpsons and Arrested Development, among many others. She first made her mark on television during a three-year stint (1982-1985) on Saturday Night Live, opposite the likes of Billy Crystal, Christopher Guest and Eddie Murphy. She subsequently hosted the show twice, becoming the first female former cast member to return as host.
As a steadfast defender of the environment, Louis-Dreyfus serves on the leadership council for the Directors for the Natural Resource Defense Council (NRDC), Heal the Bay, The William Louis-Dreyfus Foundation and the Honorary Board of Heal the Ocean. In September 2017, she announced her support to make universal healthcare a reality and has continuously been a strong advocate ever since.
Louis-Dreyfus studied theater at Northwestern University where she was a member of The Practical Theater Company, and Chicago's famed Second-City comedy troupe. She currently resides in Los Angeles with her husband, Brad Hall, and their two sons, Charlie and Henry.