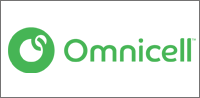 Omnicell's autonomous pharmacy management system provides workflow automation, data intelligence, and technology-enabled services that allow caregivers everywhere to focus on improving patient outcomes.
Designed to address clinical, operational, and population health challenges, the autonomous pharmacy can help clinicians safely and securely deliver the right dose to the right patient at the right time across the care continuum.
Omnicell's vision is to deliver the most compelling automation and services that accelerate pharmacy profession. Their vision on an autonomous pharmacy means "A zero-error, fully automated, digital, medication and supply management delivery infrastructure designed to address clinical, operational, compliance and population health care challenges."
"Omnicell has been delighted to support the ASHP Foundation and participate in the Corporate Partners Program for many years. Our company was born out of a concern for patient care, and likewise, improving patient care is the ultimate aim of the Foundation's many research and education initiatives. Thus, Omnicell's support of the Foundation is meaningful and aligns with our company's history, culture and values. We applaud the Foundation's efforts to advance pharmacy practice and ensure the optimal, safe, and effective use of medications.
–Ken Perez, Vice President of Healthcare Policy, Omnicell, Inc.
ASHP Foundation Support
2020
Pharmacy Forecast Report
Optimizing Technology Solutions Research Grant Program
Corporate Partners Program
Donor Match Campaign Supporter
2019
Donor Match Campaign Supporter
Optimizing Technology Solutions Research Grant Program
Pharmacy Forecast Report
Corporate Partners Program
2018
Donor Match Campaign Supporter
Pharmacy Forecast Report
Corporate Partners Program
2017
Donor Match Campaign Supporter
Pharmacy Forecast Report
Corporate Partners Program
2016
Pharmacy Residency Expansion Grant Program
Center for Health-System Pharmacy Leadership
Bar Code Safety Tool Kit
Practice Advancement Initiative Gifts
Corporate Partners Program