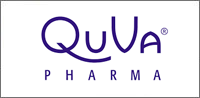 QuVa offers hospitals ready and reliable access to a robust portfolio of 503B sterile compounded injectable medicines that are demanded by hospitals and needed by patients.
QuVa supplies products in ready-to-administer presentations that help create supply chain resiliency, increase system-wide access, improve safety, save time, and reduce waste.
Providing industry-leading quality and compliance, expansive capacity, a robust portfolio, transparent and proactive customer service, complimentary process improvement consulting services, and new product development are how QuVa helps hospitals meet their patient care and operational needs.
"QuVa Pharma is committed to improving overall health care and patient safety by changing 503B outsourcing for the better. Knowing the ASHP Foundation promotes health outcomes, medication safety, and improvements in patient care, QuVa was excited to become a Platinum member of the Corporate Partners Program because the aligned focus on patient safety and outcomes was important to us. This enables us to better connect with and understand leaders in ASHP and health system pharmacy to foster more transparent communication and collaboration around areas of mutual interest.

The ASHP Foundation Corporate Partners Program provided an ideal platform to elevate the important issues surrounding sterile compounding—issues like: quality in compounding; increasing regulatory, compliance, and operational requirements; drug shortages; pharmaceutical supply chain dynamics and service implications. These impacts on and interdependencies within hospitals and 503B companies alike required a greater collaboration and open communication to ensure patient care remains at the highest levels of quality. ASHP Foundation and the corporate program is a core component of our customer-focused service orientation"
–Mike Scouvart, Vice President, Marketing & Corporate Communications, QuVa Pharma
ASHP Foundation Support
2020
Corporate Partners Program
Donor Match Campaign Supporter