PPS Virtual Booth Information
If you have reserved a 2021 Residency Showcase booth, please use this page as a resource to help you as a resource. I
Important information
All booth staff must be individually registered for the Midyear Clinical Meeting and added as staff with the same email used for their individual registration. If different emails were used, please have the individual fill out the Booth Staffer 2021 Midyear Registration Survey.
Please view the Virtual Meeting Tools and Tips site for important information, including hours, technical requirements, and more.
PPS interview times are scheduled to accommodate all time zones at the virtual event. Hours are as follows and in Eastern Time (ET):

Sunday – Thursday 10:00 a.m.-6:00 p.m.

Booth Chat Training Video (please note: scheduled group chat will not be offered in 2021) - Pre-recorded by the Midyear environment vendor, Intrado, with guidance on conversing with students/candidates at Midyear.
Important Dates
Thursday, December 2 - The "Need to Know" 2021 Midyear attendee newsletter will be distributed. This will include Midyear sign in instructions.
Sunday, December 5 - Midyear opens at 7 am ET and will remain open through Thursday, December 9 at 6:15 pm ET
Thursday, December 16 - Information on accessing your booth reports will be distributed
FAQ's
How will get into my booth as staff?
You will enter the Midyear like every other attendee, but use the credentials assigned to you as a booth staff. If you do not have the credentials, please contact your booth administrator as they assigned them or use the "forgot password" link when Midyear opens.
What do I do if I am not shown as a booth staff when I enter my booth?
If you were assigned as a staff, make sure you're using the email assigned to you by your administrator. Try signing out and back in if you're not sure. If you're not a booth staff, you can still participate in booth chats and talk to other attendees one-on-one
How does chatting work?
There are really 3 ways to chat in a booth.
Attendees can find you (or vice versa) and request a one-on-one chat. This chat starts as text, but can be moved to video by the individual who initiated the chat with the approval of both individuals.
You will have a chat with us button that serves as a message-board style public chat in the booth.
If you posted a breakout room/group chat link while building your booth, you should have placed a tab on the right side of your booth directing candidates there. If not, you can still share that link with attendees via the other 2 chatting options.
Preview Images of the Midyear Environment (from 2020)
Midyear home with PPS Navigation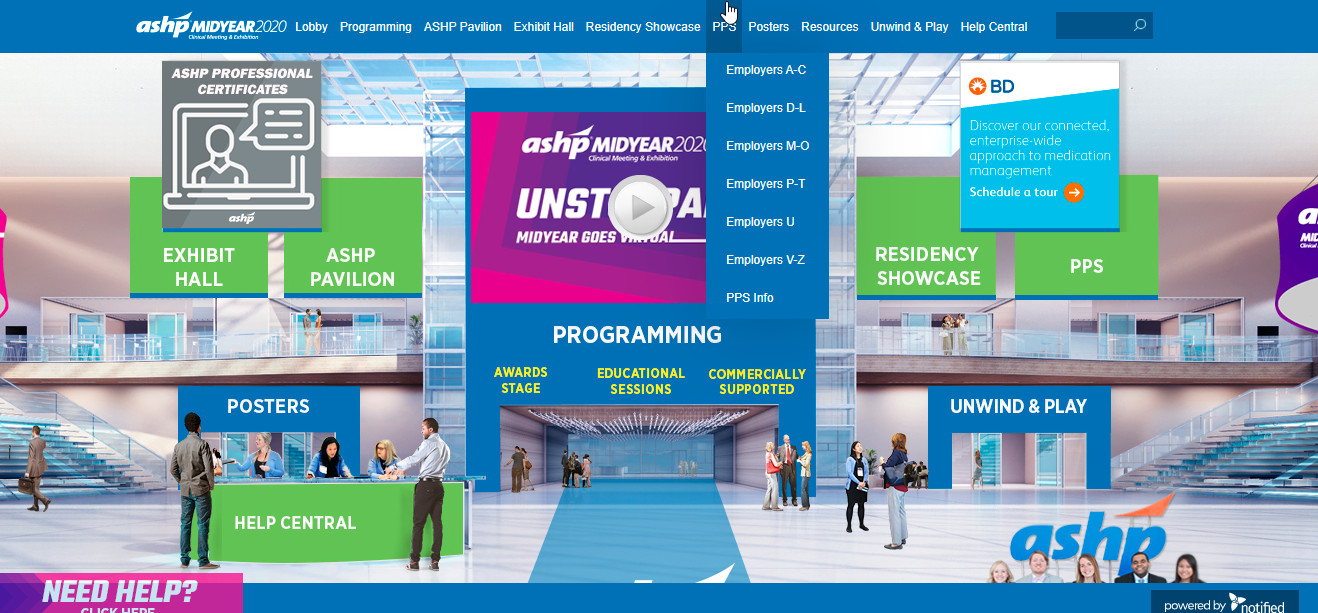 Virtual Booth Space (Front End)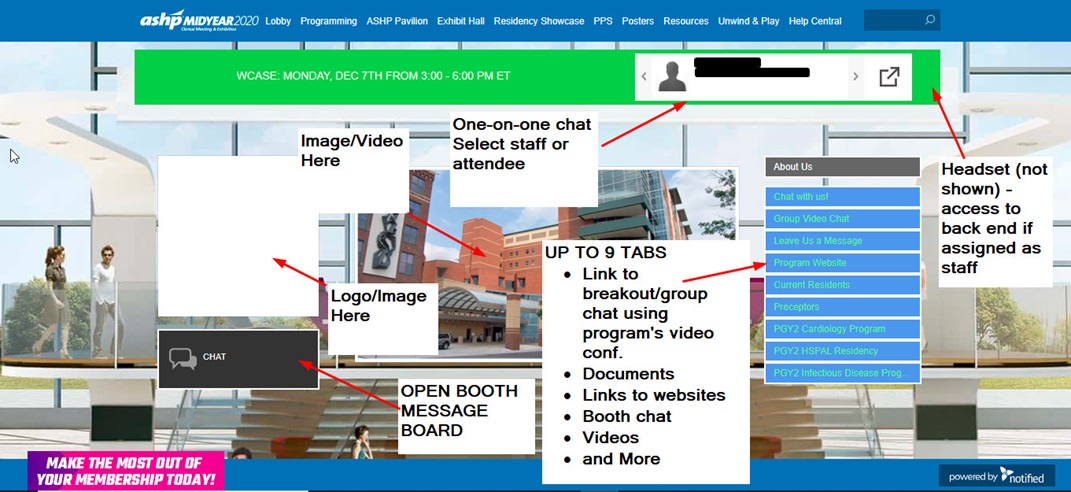 Virtual Booth Space (Back End)