Pre-Meeting Workshops
Get a jump-start on learning — participate in a workshop. You must be a full Midyear Clinical Meeting registrant and pay a separate fee to attend pre-meeting workshops. Registration fees for full-day workshops include boxed lunch.
Enrollment is limited, and workshops fill quickly, so register soon. Registration must be received on or before November 25.
ASHP reserves the right to cancel a pre-meeting workshop for reasons that make it impractical or unreasonable to conduct. If that occurs, each registrant will be issued a full refund.
For more information, view the Session Schedule & Itinerary Planner.
Saturday, December 3
Residency Program Design and Conduct (RPDC)
Time: 8:00 a.m. – 5:00 p.m.
Workshop Fee: $395 (Boxed lunch included)
NOTE: CE credit will not be offered for this workshop. Workbooks will be emailed to the address you used for registration (only electronic files will be provided, please bring your laptop to the workshop for reference and use).
In this workshop, attendees will review accreditation standards for the design and conduct of a pharmacy residency program, including requirements related to program purpose, competency areas, goals, and objectives, program structure, learning experiences, orientation, use of preceptor roles, evaluation, resident development plans, and continuous residency program improvement.
You must select one of the following areas when registering:
RPDC A: PGY1 New Programs (limit: 120 participants)
RPDC B: PGY1 Existing Programs (limit: 120 participants)
RPDC C: PGY2 New Programs (limit: 120 participants)
RPDC D: PGY2 Existing Programs (limit: 120 participants)
Sunday, December 4
8:00 a.m. – 4:45 p.m.
340B University™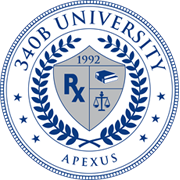 Breakfast and lunch are included. Breakfast served at 7:00 a.m. Midyear Clinical Meeting registration not required (limit: 350 participants).
340B University in-person training is provided as a full-day educational program offered by the HRSA 340B Prime Vendor Program (PVP), managed by Apexus. 340B University is intended for those new to 340B and is designed to meet the practical needs of all 340B stakeholders. Participants learn from 340B subject matter experts and experienced faculty. Continuing education credit is available for pharmacists and pharmacy technicians.
For more information and to register, visit 340B University (Las Vegas)/ASHP Midyear.