Student Information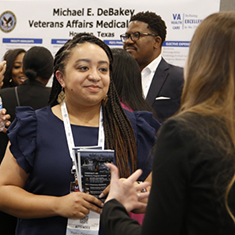 ASHP's Midyear Clinical Meeting is not only the largest gathering of pharmacy professionals in the world, but also the largest gathering of pharmacy students, attracting on average 8,000+ students each year.
The Midyear Clinical Meeting is by far the most important live event for students to attend who are seriously considering a career in hospital pharmacy, or seeking a residency or fellowship upon graduation. No other national meeting or event offers the same opportunities, programming, exposure, and experience. Imagine the possibilities and career opportunities that await you this December in Anaheim.
Midyear Meeting Fees
Student members of ASHP have the lowest cost of attendance at Midyear, especially if you register by October 20. There are a lot of educational and networking opportunities available for students at Midyear, so it is important to us to make attendance as affordable as possible.
If you're not yet an ASHP member, you can join prior to registering for Midyear to receive the best rate for the meeting
We offer a free one-year membership for current P1 students
For P2, P3, and P4 students, the cost of membership is less than $5 a month (or $54 annually)
Student Hotel and Travel Information
Hotel
Book today for the best rates and hotel selection in Anaheim and take advantage of the exclusive ASHP benefits, such as free in-room internet access, no resort fees, free shuttle service to the Anaheim Convention Center for six days, no payment due at the time of booking, and protection in the event the hotel oversells its rooms!
Travel
Options Travel is your one-stop shop for making travel reservations for the Midyear meeting. Take advantage of low fare options on all airlines, while still earning your personal frequent flyer points.